Uncle Ernie is a
volunteer
helping to organize scores at
The Bagaduce Music Lending Library
.
About its volunteers, the library says: "Volunteers are the heart and soul of the Music Library. From its beginnings in 1983, volunteer efforts have been responsible for the bulk of the Library's functioning.... The Library would simply not exist without this wonderful support. Volunteers sort music, erase pencil markings from scores, flag music needing repairs, complete the repairs, enter music titles in our database, plan and assist at events, and assist visitors with research and browsing the stacks."
Every now and then there's an article about
The Maine Music Box
project in which the BMLL is a partner.
The most recent is a feature article in
D-Lib Magazine
. The Maine Music Box is the magazine's featured collection this month.
---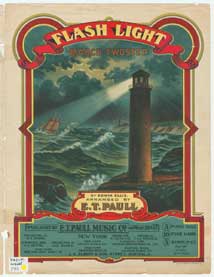 Here, to the left, is an image of the cover of sheet music for the song Flash Light by Edwin Ellis.
About this piece of music, the article says: "Flash Light by Edwin Ellis, arranged by E.T. Paull, 1909. One of the "mascot" images of the Vocal Popular collection. E.T. Paull was the second most popular composer and arranger of marches at the turn of the century, behind only John P. Sousa. However, his greatest talent was in publishing, and his pieces are still valued for their distinctive, colorful covers. The lithographs were usually (as in this case) done by A. Hoen & Company. Courtesy of Folger Library and the University of Maine."