Autumn advances. The geraniums on our back porch are scraggly pretty with their multicolored leaves and few remaining blossoms. The big trees have lost their leaves and only the Japanese Maples retain theirs brilliantly. I've abandoned our side porch and eat lunch in the dining room these days. But, through our dining room window, I still get to observe the hubbub of babies, toddlers, three- and four-year-olds with moms and caretakers as they return from the preschool up the street at the end of the morning's session.
This day, 40 years since Sesame Street's first airing, I think of the hour or so we four spent, most days, watching Muppet characters and their human partners portray a world that was not free of problems, but was one nonetheless where hope abounded and tolerance prevailed.
I'm pretty sure
Grover
was our most favorite and I recall that the male half of our family admired
Bert
quite a bit.
Some images of all this:
---
{According to wikipedia, Grover first appeared in 1970, voiced by Frank Oz himself and later by Eric Jacobson; source: muppet.wikia}
{This is Grover's alter ego, Supergrover from
Grover
on muppet.wikia}
{Frank Oz uses the Grover puppet to entertain the kids on set; source: jimhillmedia.com}
{Dr. Grover; same source}
{Grover loves the camera; source: Life}
{From "The Monster In The Mirror" skit; source: sydlexia.com}
{Like Grover, Bert was originally performed by Frank Oz and later by Eric Jacobson; source: muppet.wikia}
{Ernie and Bert; source: 1.bp.blogspot.com}
{This is said to show Bert with his paperclip collection but it looks more like buttons or bottle caps to me; source: muppet.wikia}
{Jim Henson and Frank Oz with Bert and Ernie and a third person not identified; source: muppet.wikia}
We also came to like Elmo, who has proved himself to be one of the most photogenic muppets and, like Big Bird, one of Sesame Street's most visible ambassadors. For example: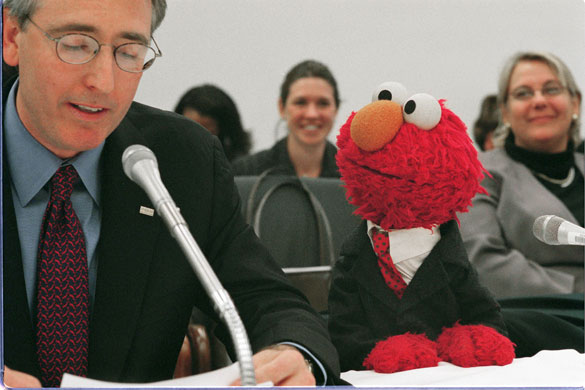 {Elmo at a Congressional Hearing with Joe Lamond, president and CEO of NAMM-International Music Products Association,
testifying
in support of school music education; source: Guardian (UK)}
{Elmo at the National Book Festival with his handler, Kevin Clash, and a friend of mine; source: Library of Congress}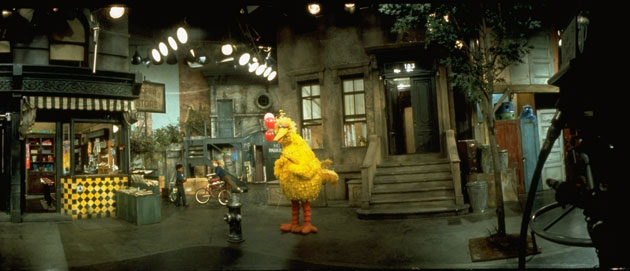 {A view of the TV set in 1969; photo by Bill Pierce for Life}