Yesterday, Friday, was the first of the week warm enough and sufficiently free of ice and snow for cycle commuting. Though still sub-20 deg. f. in the morning and just freezing on the way home, and though the uphill ride home was made worse by head winds, the experience was oddly pleasant. It brought pleasure, in fact, despite the pain of lower back and hip joints that's inflicted me over the past year or so. I'm sure this is not a symptom of latent masochism. I gloried in the outdoorsy freshness of ride, the release from confinements (within buildings, within automobiles...), the few-and-far-between
endorphin highs
. I also expect my bike muscles were happy to be put back to use.
The physical discomforts are troubling. I welcome the stop lights that give me a moment to stretch backward, pushing out my abdomen. I
breathe into my belly
and
distend the abdomen muscles
to keep the back muscles from complaining too much when I climb hills. I alternate seated and standing climbs to help release pressure on back and hips. It's tedious, remembering to do these things, and -- in this weather -- remembering alike to wiggle fingers and toes before they start to complain of the cold. It's not a pleasure to do sit ups, abdominal crunches, weight training, and a variety of stretches in a (mostly vain) attempt to put the muscles of my torso in good condition. My pitiful complaint: I never used to have to do all these things.
These images don't show me or my commute. I try not to ride when it's actually snowing, I'm more visible in the dark than the guy in the second photo. My bike looks nothing like the snowed in one. And my clothing isn't as bulky as shown in the last image.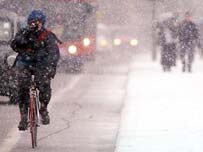 {source: http://www.tmcrew.org/eco/bike/news/2006_01_31_inverno_in_bici.html}
{source: http://binghamcyclery.com/page.cfm?PageID=78}
{source: http://www.toronto.ca/bug/cwc_snowice.htm}
{source: http://www.toronto.ca/cycling/cyclometer/cyclometer0300.htm}