Last summer I joined a few other family members in a trip to the Netherlands and nearby areas in Germany — locales where our Dutch and German ancestors were born and raised. While in the Dutch province of Friesland we stayed in a tiny dorp called Ee. Our B&B was a reclaimed barn with a centuries-old pedigree and thick thatch roof.
Like other old Friesian villages Ee is built around a church and the church lies on the highest point of a man-made mound, both making it visible across the area's vast extent of flat farmland and also providing a place of refuge on black-swan occasions when the seas overwhelm the dikes and flood the countryside.
Ee still consists of the church and not many other structures (homes, sheds, barns, a few shops) surrounded by farmland. Most Friesian villages that have survived from the middle ages do not retain the compact configuration that you can see in this satellite view.
Country lanes encircle the church, not a bad track for a morning jog as I found on the second day of our stay. I took some photos during a final cooldown walk and they're visible in a gallery I put up here:
2012 Trip to Europe - St. Gangulfuskerk
. This image shows our B&B in the foreground with the church behind.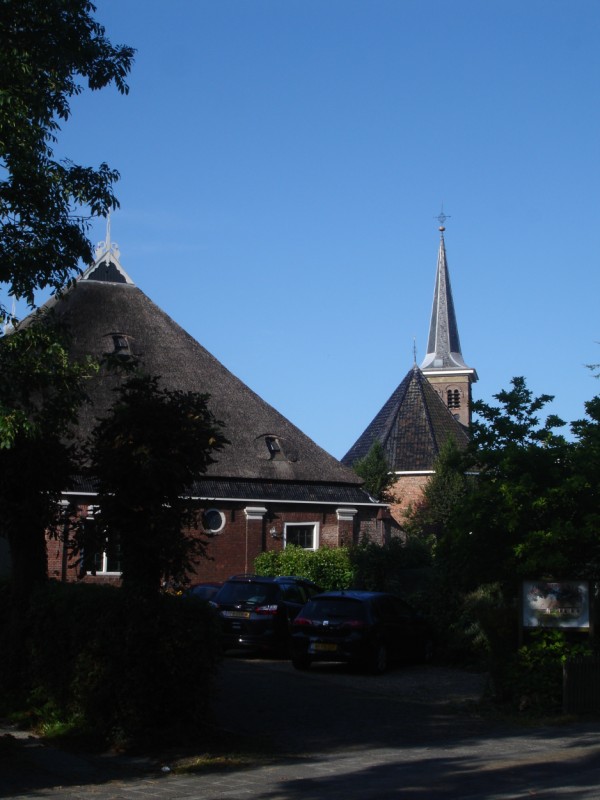 On the evening we arrived we sought out a place to eat and quickly located the only one that was open: a café-pub attached to a gas station called "Eetcafe de Tukker." As you'd expect, an eetcafe is simply an eatery. Tukker refers to the inhabitants of
Twente
, an eastern, mostly rural part of the Netherlands. It's roughly the same as "hayseed," "hick," "redneck," or "rube" in America, and as have many other terms of abuse, it's been adopted as a badge of pride by the locals.
This satellite view shows the eetcafe as well as our B&B and the church.
Since "tuk" means pocket in the local dialect, the
Dutch Wikipedia article on the subject
says tukkers are guys who slouch around with their hands in their pockets. The article also says tukkers gained cred when their local (and very successful) pro football team,
FC Twente
, took "De Tukkers" as their nickname.
This is the logo from the website of the Eetcafe de Tukker.
You might think that Eetcafe de Tukker is owned and run by Tukkers and, indeed, we were told the guy behind the bar, Frank Duursma, comes from Twente. But on the other hand his name is definitely Friesian so there's some doubt as to how deep the Tukker blood runs.
The eetcafe has a web site,
Eetcafe de Tukker
, which gives some photos of the place, its menu, and information about its darts team. There are also some images of a German Night (
Duitse Avond
), a birthday celebration, and other events.
The web site shows the exterior of the little place and the table where we ate our Tukker meal.
And the German Night photos show our host dressed as a Duitse boer (that is to say as Frieslanders imagine the German version of Tukkers to look).
After discussion with the guy who had a bit of English (standing at the bar drinking Grolsch) I ordered the "Broodje Tukker" which turned out to be a big juicy burger with lots of toppings accompanied by fries and slaw.
-----------
All this came back to me on reading today that my favorite pro bike racer is retiring from the sport. In an interview he said he's not quitting because of the doping scandal that has brought down Lance Armstrong, most of his teammates, and a bunch of others. His reasons are three: He doesn't have a contract for the coming year, he's been enjoying the sport a lot less, and he wishes to spend more time at home with his young family.
This shows Joost at the 2011 Tour of Britain.
Joost comes from the Twente city of Hengelo. He's a fan of the football club and he's proud to be a Tukker. You can read about him on
his own web site
and the sites I've sited in "sources" below. I have been following his career since 2006 when he won the best young riders' jersey in the prologue of the Tour de France. I've put below a list of my blog post in which Joost figures.
When a bike racer retires, the Dutch say he's hanging his bike on the willow (hangt fiets aan de wilgen" or as it says on Joost's web page,
de fiets in de wilgen
). I don't know why.
This video shows an afternoon of cyclocross racing in the Twente city of Enschede and ends with a ceremonial last kilometer. At the close, in addition to seeing Joost hang his bike on a willow, you get to see his son ring the last-lap bell and both the son and his daughter present him with bunches of flowers.
----------
My blog posts in which Joost Posthuma figures:
July 03, 2006
—
July 12, 2006
—
July 13, 2006
—
July 14, 2006
—
September 02, 2006
—
April 19, 2007
—
June 20, 2007
—
July 15, 2007
—
July 29, 2007
—
November 12, 2007
—
July 03, 2008
—
November 25, 2008
—
April 01, 2009
—
April 02, 2009
—
November 25, 2008
—
September 21, 2009
—
July 25, 2009
—
July 25, 2009
—
July 24, 2009
—
April 01, 2009
—
April 02, 2009
—
April 12, 2009
—
April 13, 2009
—
April 21, 2009
—
April 27, 2009
—
July 10, 2010
—
July 16, 2010
—
March 24, 2010
----------
Some sources:
Joost Posthuma
on Wikipedia (en)
Joost Posthuma
on Wikipedia (nl)
Joost Posthuma
from trap-friis.dk via the Wayback machine
Joost Posthuma
from the Rabobank cycling team website via the Wayback machine
Advertisement Advertisement 2006 Tour de France prologue Joost Posthuma
on Velonews
Posthuma hangt fiets aan de wilgen
in De telegraaf
Posthuma hangt fiets aan de wilgen
on spitsnieuws.nl
Gezocht op: joost posthuma
on De Telegraaf news site
Ee
in Noordelijk Oostergo, Dongeradelen, Staatsuitgeverij by Herma M. van den Berg (Den Haag 1983)
Kerk van Ee
on Wikipedia
Nederlandsch Hervormde Kerk van Ee
on the dorp-ee website